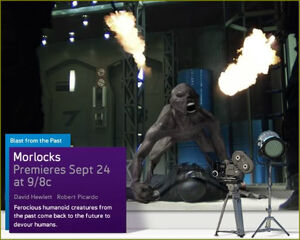 Morlocks is a 2011 Syfy film, featuring the Morlocks.
Synopsis
From the Syfy.com website:
MORLOCKS—An experimental time machine opens a window into the future and mutated monsters (the Morlocks) use it to come back to the present and go on a murderous rampage. Stars David Hewlett (Stargate Atlantis).
Plot
Dr. Radnor, a retired scientist and current science fiction writer, is called back to work at Tempus Flats when his Time Travel device, which he'd previously believed to be a failure, is stuck open and may soon doom the Earth.
Along with a team of marines, he must visit the future to retrieve the Latch, a device needed to close the time portal and save the Earth. But unfortunately, the future's infested with Morlocks and other deadly creatures.
References
Characters
Races & Species
Technology
Locations
Eras
Gallery
Community content is available under
CC-BY-SA
unless otherwise noted.