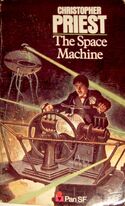 This article is about the machine; for the novel named for it, see The Space Machine.
The Space Machine was a vehicle created by H.G. Wells, Edward Turnbull, and Amelia Fitzgibbon as a way of traveling through space to hinder the Martians' invasion of Earth in 1903. Its design was based on that of The Time Machine, although it was of a much simpler construction since it was not needed to travel through time.
The machine was built on the frame of a bed from The Time Traveler's House, with a wheel mounted on it that had been blasted off of one of the artillary stations which had been in battle with the Martians. ("The Space Machine")
herro i awesome!