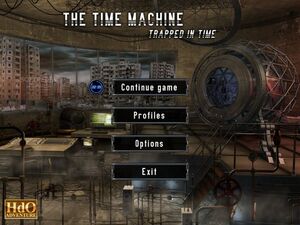 The Time Machine: Trapped in Time is a computer game loosely based on The Time Machine: An Invention. It is a finding-objects game, in which the player must click on hidden objects to find them.
Dr. George Einwin, after inventing a Time Machine, kills himself, realizing that he's created a series of paradoxes throughout Earth's history. His assistant, Filby Young, begins to try to figure out why Einwin killed himself. He discovers the Time Machine and uses it to visit various eras, finding more Time Keys.
Once he finds all the keys, the machine takes him to the moon where he meets Chronos. Chronos tells him to find and reverse the damage to the timeline. Once he does so, he's returned to his time and the time keys disappear.
References
Edit
Characters
Edit
Technology
Edit
Community content is available under
CC-BY-SA
unless otherwise noted.