Jurassic World: Dominion Dominates Fandom Wikis - The Loop
Play Sound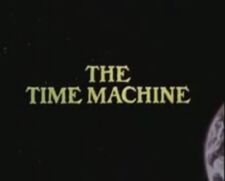 The Time Machine was a 1978 adaptation of The Time Machine: An Invention. Something of a re-imagining, it featured the time traveler living in a modern setting.
Plot
[
]
Dr. Neil Perry, a scientist working with the Mega Corporation, proves his value to the company by deflecting a missile that might have accidentally hit Earth, with seconds to spare. When they try to assign him to work on new advanced weapons projects, he reveals he's been developing a time machine. Although he demonstrates using a Model Time Machine, Perry's superiors fail to see the practical applications of his system and refuse to allow him to pursue it.
But when the power core he'd ordered comes in months ahead of schedule, the Time Machine suddenly becomes operational. He leaves to explore time, first visiting the past, where he's mistaken for a witch during the witch hunts, and then in a different era, mistaken for a gold thief during the gold rush. Finally he escapes into the future, deciding to visit the far future after a brief stop at his own era, to see if the weapons being developed will have negative effects.
He finally stops in the far future, where he meets Weena of the uneducated Eloi people. She tells him of the Morlocks, who come and take the Eloi, for unknown purposes. She also relates that there are only a few Eloi left after centuries of devastation.
Following a Morlock attack, Perry visits the Morlock tunnels to rescue Weena's brother, Ariel, and the Time Machine. He also teaches the Eloi how to defend themselves. Succeeding in his mission, he returns to his own time to relate the story.
Characters
[
]
Gallery
[
]