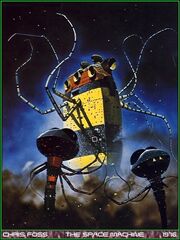 War of the Worlds is another classic science fiction novel by H.G. Wells, along with The Time Machine: An Invention. Like The Time Machine, War of the Worlds has had many sequels by other authors and adaptations in other media. As such, it constitutes its own franchise.
While there are indications that the two stories take place in the same universe, this wiki doesn't cover sources within the War of the Worlds franchise unless they pertain to The Time Machine in some way. This article covers all connections to the Time Machine in the War of the Worlds franchise.
When the Sleeper Wakes Edit
Main article: When The Sleeper Wakes
While not part of either franchise, this novel by Wells makes reference to both, implying them to be in a shared universe. In the beginning of the novel (the current age), the Martian invasion is discussed as a recent event. In the future, Graham encounters a group of subterranean people who are implied to be developing into beings like the Morlocks.
The Space Machine Edit
Main article: The Space Machine
The Space Machine is a crossover novel between the two franchises. It heavily features elements of both, as the protagonists use The Time Machine to travel to Mars, discovering the Martian invasion before it happens.
League of Extraordinary Gentlemen Edit
Main article: Allan and the Sundered Veil
Both stories cross over with the League of Extraordinary Gentlemen series in one of its short stories, "Allan and the Sundered Veil".
See Also Edit